Lvs2Cook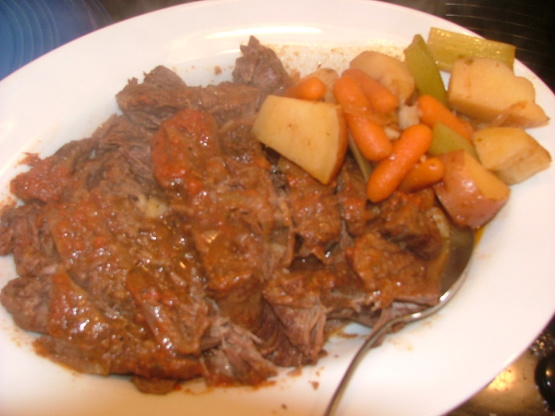 Don't let the long list of ingredients stop you from making this recipe -- it's delicious! My red potatoes were large so I quartered them and I did not peel them. I used baby carrots instead of regular size carrots. The recipe originally comes from Southern Living.
Make small slits in the top of the roast and insert slice of garlic into each slit.
Rub roast with salt and pepper and dredge in flour.
Brown roast on all sides in large Dutch oven.
Add onion and wine to roast in Dutch oven.
Combine tomato sauce and next 5 ingredients; stir well. Pour over roast.
Bring liquid to a boil in Dutch oven, reduce heat, cover, and simmer for 1 1/2 hours.
Add potatoes, carrots, and celery and cover and simmer for 1 more hour or until roast and veggies are tender.
Transfer roast to serving platter and spoon veggies around roast using a slotted spoon.
Discard bay leaf.
Spoon pan drippings over roast and veggies and serve.