Deluxe Peanut Butter & Honey Sandwich
chiclet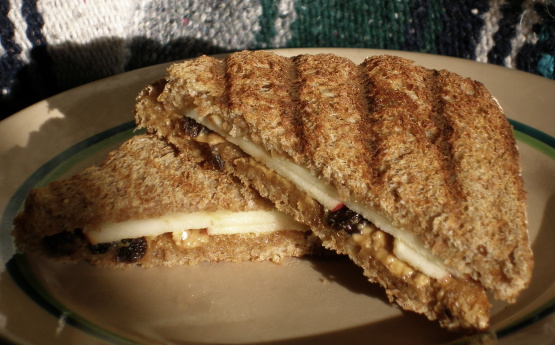 Release your inner child!! Or feed your actual child. This is a super sandwich for adults and kids alike, and makes a healthy breakfast, lunch, or snack. I modified this from a slightly more ridiculous recipe in Vegetarian Times. I use a George Foreman Grill, but if you don't have one you can just butter the outsides of the bread and make it in a frying pan.

This was a nice simple dinner for us the other night. I really liked it, although my boys weren't especially fond of it. I left the apple out because I was too lazy to peel and slice it (and I knew my boys wouldn't go for apple on their sandwich.) But it was a tasty little upgrade to your typical PB & Honey sandwich!
2

slices whole wheat bread

1

tablespoon crunchy natural-style peanut butter (non-natural and smooth PB are probably OK too)
1⁄2 tablespoon honey

1

tablespoon raisins
1⁄2 crispy apple, sliced thin
1⁄2 teaspoon cinnamon sugar
Mix the peanut butter and honey together, and spread on one slice of bread.
Sprinkle raisins over peanut butter, layer apple slices on top and sprinkle with cinnamon-sugar.
Toast in George Foreman grill, panini grill or frying pan until the bread is toasty and the peanut butter is a little gooey.