Deluxe Chicken or Turkey Salad (julia Child)
Prep 30 mins
Cook 10 mins

Taken from Julia Child's The Way to Cook. I think it would be delicious as a sandwich filling too.
Directions
Season the chicken or turkey in a large mixing bowl with the salt, pepper, and oil.
Add lemon juice, herbs, celery, onions, romaine and optional walnuts- mix well.
Taste and add more salt/pepper/lemon juice if required.
Let mixture marinate for at least 10 minutes, tossing several times.
Drain any accumulated liquid out of the salad, then fold in just enough mayonnaise to coat the ingredients.
Garnish before serving, if desired.
Note: Salad may be prepared a day in advance; cover and refrigerate.
Most Helpful
A cafe across the street from my work serves this on a cranberry ciabatta roll, now I know how to make it at home! I add a few extra walnuts and chop up some dried cranberries as well. Delicious!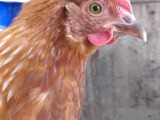 We so enjoyed this. It's simple and delicious. One can always trust Julia! Thanks for posting, we'll enjoy it again.

Old Norfolk Va. Recipe is a twist on Julia's recipe only BETTER! My Grandmother made the BEST "Chic-Sal" for her "Bridge Ladies". She would boil 2 chickens in lightly (sea) salted and peppered water; let it cool in the water for 1 hr. ("let the chicken bathe") skim off fat and save the broth for stock later; skin and debone breasts. (save the dark meat for soup with the saved stock) and cover in frig for 1 hr.+-; cut up chic in nice bite-sized chunks; add chopped celery (not too fine), sweet onion (not too much: "it is a spice- treat it that way"), walnuts, pinch of fresh basil , fresh ("is there any other") black pepper, lightly sea salt to taste, Helman's Mayo., dash of red wine vinegar,T. of orange marmalade (or apricot jam). Toss lightly- "you want it a 'tad-bit' dry" ( it becomes watery with the celery and mayo). Stuff it in a half ripe tomato, dash with paprika, and a sprig of parsley or water cress, and bed in cold, crisp iceberg lettuce with tangerine slices or watermelon pickle. "Ooooeeee, mmmm!" Alice Doughtie