loof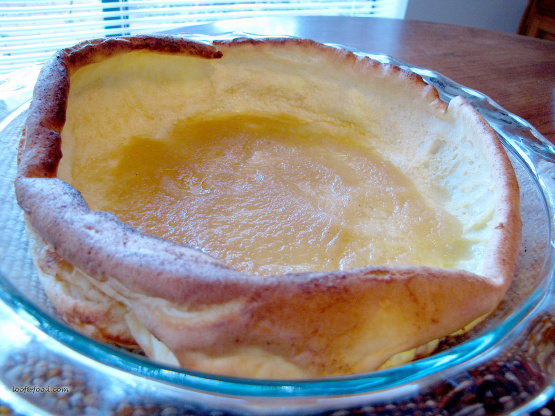 Light, fluffy, and delicous. Great for weekend mornings. Really easy to make and will please the whole family.

I tried this a few weeks ago and have made it twice now. I didn't expect this to be as wonderful as it was. It puffed up so beautifully and the taste reminded me of french toast but without the bread (if you can imagine that). I buttered it and drizzled it with maple syrup and loved every bite! Thanks!
Preheat oven to 450 degrees.
Place butter in a 10'' round baking dish.
Place dish in oven to melt butter.
Place milk in blender.
Add in flour.
Process on blend for 30 seconds.
Crack 2 eggs in the blender and blend until smooth.
Remove dish from oven and pour in the mixture.
Place back in oven immediatley for 12-15 minutes.
Cut into wedges and serve hot.