Deliciously Simple Chicken Pot Pie
Soup Fly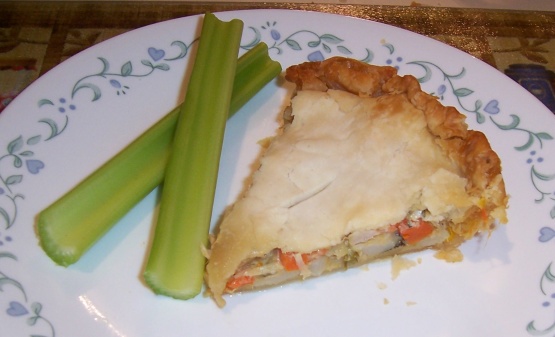 This is my DH's favorite recipe, and I love it because it's so simple to make! This is especially good on a cold night after a long day at work when you want some warm comfort food but don't have the time or energy to put a lot into preparation. **I wasn't happy with the consistency of the filling, so I played around with the recipe a few times. I think I've finally got it just how I like it and have edited the recipe to reflect the changes.**

This was good and easy to make. I only added one can of mixed vegetables but followed the rest of the recipe as written. I knew it would need some spices for my family so I added 1/2 teaspoon of salt and onion powder and 1/4 teaspoon of pepper and garlic powder. This made it better for my family but next time I would cut back on the salt. I cooked mine for 35 minutes and it was perfect.
1

package refrigerated pie crust (top & bottom)

1

(10 ounce) can white meat chicken, drained

1

(10 3/4 ounce) can cream of chicken soup, with herbs

2

(15 ounce) cans mixed vegetables, drained
1⁄4 cup milk
Allow pie crusts to sit at room temperature 15-20 minutes.
(Or microwave on defrost 1 min) Preheat oven to 350.
Place bottom pie crust in 8-9" pie pan.
Stir chicken, vegetables and soup until mixed well.
Spread evenly into pie shell.
Cover with top pie crust and flute the edges or pinch together with a fork to connect top and bottom crusts.
Poke small hole in center of top crust and make four 1/2" slits, evenly spaced.
Bake at 350 for 30 minutes or until crust is brown and filling is warmed through
Lower temperature to 325 degrees and bake an additional 15 minutes.