Deliciously Rich Mayo and Blue Cheese Sauce
Zurie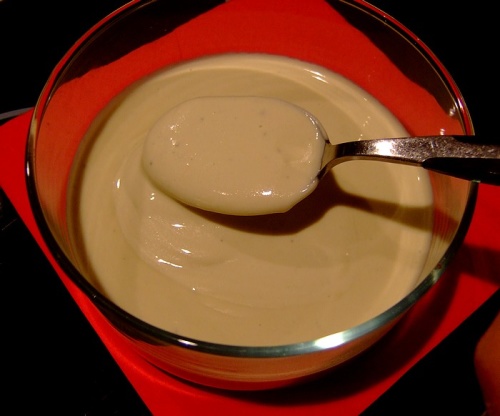 This is a very quick, very versatile sauce or dressing, and it's absolutely great! If you don't mind a small taste of something really rich and really useful, this is for you. It can be a sauce for steamed veggies, a dressing for the hollows of pear halves as a starter, or cold as an over-the-top salad dressing! Also great to use as a pasta sauce. Because mayonnaises differ, and blue cheeses are not created the same, your sauce might taste slightly different from mine. For the photo's I used Hellmann's mayo, which is all I have at hand, but a slightly more tangy mayonnaise might be better. I used a local artisanal blue cheese, and a thick sour cream. Or use creme fraiche and add a squeeze of lemon. I used a teaspoon of smoked garlic paste which I need to use up, instead of fresh garlic. The sauce, covered, will last for days in the fridge.
Combine the ingredients directly in a small saucepan with a heavy bottom, over slow heat.
With a whisk or fork, stir until the cheese has melted and the ingredients are smooth. Do not boil !
Use hot on vegetables or cold as a salad dressing.
Use in canned or fresh pear half hollows, with roasted walnuts, as a starter.
Season with coarse black pepper and fork through hot pasta, and add lots of freshly-chopped parsley.
Can be kept in fridge for a few days at least.