Delicious Whole Wheat Banana Bread
all4him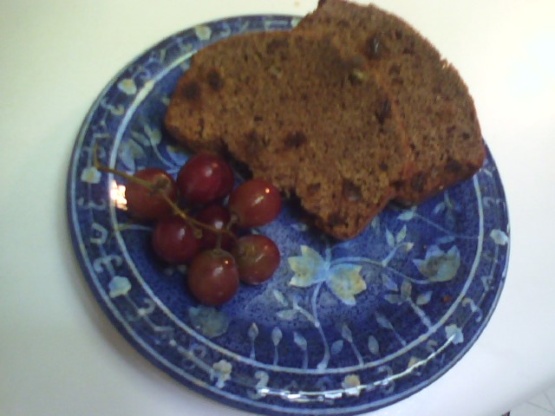 I didn't have all the ingredients I needed to make a different banana bread recipe so I improvised and this is what I came up with. Its very moist. The best banana bread I have made.

Great recipe! I added 1/4c of flax seed meal. Next time I will increase the banana and the optional ingredients... I might add some nutmeg too. Thank you for posting!
Preheat oven to 325 degrees.
Beat oil and brown sugar together.
Add eggs, mix well.
Stir in bananas and vanilla.
Stir in flour, salt, and cinnamon.
Add baking soda to hot water, stir to mix, then add to batter.
Lastly, add nuts and/ or fruit (if you use both reduce each measurement to 1/4 cup).
Spread into greased bread pan. Bake for 55-60 minutes.
Cool on rack before slicing.