Delicious Vegetarion/Vegan Spinach Stew With Rice
Hudakore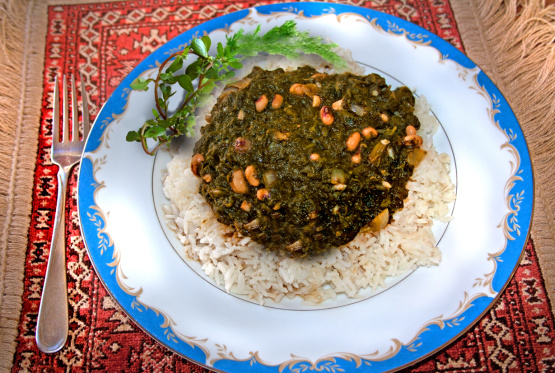 A delicious, tangy combination of spinach, onions, black-eyed beans, herbs and dried limes for a quick and very healthy meal. I make it w/o meat and use TVP crumbs but meat can be added if desired. * Purslane, if not found at your green grocer or produce stand, is commonly found as a weed growing in your yard, particularly close to sidewalks. It's very high in vitamin C ** A dark, shrivelled dried lime commonly used in Middle East cooking. It can be found whole or ground in any market selling Middle East food.
Saute the chopped onion in bottom of a fairly large pan. Remove from the heat and add the canned spinach, chopped purslane, chopped dill, and all other ingredients. Stir together and return to heat. Simmer slowly for about 20 minutes. Serve hot on white or brown rice. Finished dish should be like a slurry.
This recipe can also include ¼ cup each of fresh cilantro and fresh or dried parsley.