Yia Yia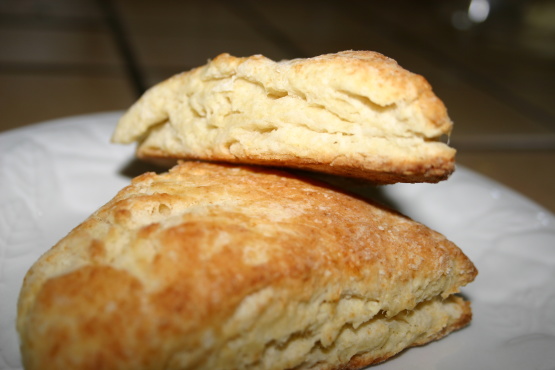 These are great scones for company, they're really easy and quick to pull together and get eaten in a flash because they are SO good. They are best served hot with jam or marmalade on top. I found this recipe on the web, made a few changes, and have been using it ever since!

This review is being dictated by my daughter (7). "It's awesome! I love it. It's a perfect treat if your really hungry. You should give it to your guests for dessert and snacks. O MY GOSH!I'm in love!Try it and you'll say their good.
Preheat oven to 425°F.
Cover a cookie sheet with wax/parchment paper, or grease it.
Combine the sugar, baking powder, salt and flour in a medium sized bowl.
Work butter in with hands. add the egg and milk together, mixing until just moist and holding together.
Turn dough onto a lightly floured surface and flatten it into a 1 1/2-inch high circle.
Cut out 8 wedges, and place on the cookies sheet about an inch apart.
Bake for 15-18 minutes or until golden brown.