Delicious Southern Style Deviled Eggs
gailanng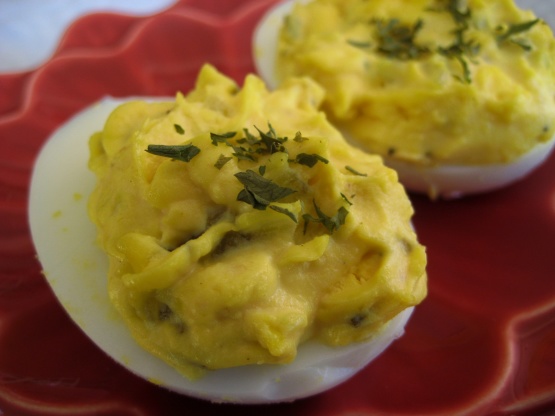 Deviled eggs take on many variations, and in the South it is a point of pride to make deviled eggs that disappear first at gatherings. This is the one that disappears first at my family gatherings.

These went over great for bunko tonight. I cut down the mustard to 1 T because we aren't big fans. I didn't use the onions because of peoples preferences. I have never added pickly relish before but it was a great addition. Made for 2010 Favorites.
Hard boil eggs. I place the eggs in cold water in a pot, bring it to a boil and continue to boil for 2 minutes. Then I remove from heat and cover for 7 minutes. Rinse under cool running water to keep the yolk from turning dark. Tap the eggs to make peeling easier, and peel them while they are still warm. Cut them in half lengthwise, placing the yolk in a separate bowl.
Place the egg yolks, mayonnaise, mustard, pickle relish, apple cider vinegar, onion, and cayenne, salt and pepper to taste in a bowl. Mix well.
Spoon the yolk mixture into the egg-white halves neatly, filling the inside. Sprinkle the top with the paprika for color.