Delicious Smashed Potatoes
Lainey39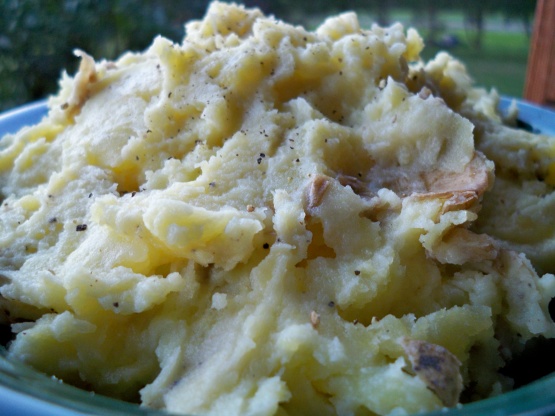 This is a creamy and most delicious smashed potato recipe! I leave the skins on for even extra flavor for this recipe, but you can peel the potatoes if you wish, I also add in roasted garlic that I keep frozen in my freezer, so good! This also makes a great topping for Shepherd's pie, russets only for this!

Best I have ever had,I used this on top of my Irish shepherd pie and it was absolutely delicious..I have a couple of this guy's recipes in my box and I just love them....
5

large russet potatoes, quartered
1⁄2 cup butter (no subs!)

2 -4

tablespoons sour cream
1⁄4 cup whipped cream (or use 18% table cream)
green onion, finely chopped (optional, use any amount desired)
salt and pepper (lots of pepper!)
Cook the potatoes in boiling salted water for about 13-15 minutes or until just fork-tender (do not over cook the potatoes or your smashed potato mixture will be very soft, cook only until fork-tender!) drain well and place in a large bowl.
While the potatoes are still hot add in butter and lightly mash.
Add in the sour cream and whipping cream; mash but leave chunks in the potato mixture.
Add in the chopped green onions (if using) mix to combine.
Season with salt and lots of pepper to taste.