Delicious Seafood and Bacon Kebabs
Zeeva22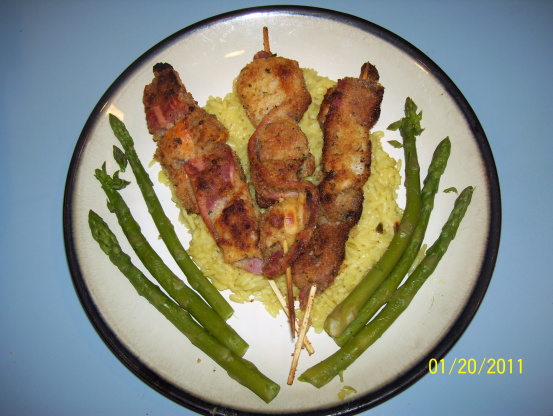 This recipe came from one of my chinese cookbooks and was simply fabulous. It is a quick delcious and impressive appetizer or side dish. You absolutely can subsitute shrimp, crab or other fish is you desire but I can tell you this was delicious as is!
1

lb scallops

1

lb mussels

1

(12 ounce) package bacon

2

cups seasoned dry bread crumbs
garlic salt
kebob stick
horseradish sauce (optional)
start by threading one end of a piece of bacon onto a kebab stick.
add a scallop, then thread the bacon over the stick with scallop.
add a mussel, then thread the bacon over the stick with the mussel.
repeat these steps going back and forth with the bacon, alternating with the bacon, like a ribbon, until the bacon is finished.
this should take about five to six pieces of seafood total for each stick.
after using up all the bacon and seafood, brush olive oil over kebabs then sprinkle on both sides lightly with the garlic salt.
putting the breadcrumbs in a flat plate, turn the kebabs, one at a time, until they are completely coated on all sides.
Place in a non-stick pan and place under the broiler for 4 minutes each side.
Serve plain or with some horseradish sauce.
ENJOY!