Prep 20 mins
Cook 50 mins

While in the Keys, we sampled some rum cake. Delicious! Luckily, I found a cookbook with some famous Key West Recipes in it and here was the Rum Cake recipe.
Directions
Preheat oven to 350° F.
Grease a tube pan or bundt pan.
Mix all ingredients for cake together except nuts.
Place nuts in bottom of pan and pour batter on top.
Bake 50-55 minutes.
To make sauce: Combine all sauce ingredients together in a sauce pan.
Heat until boiling and allow to boil for 2-3 minutes.
Pour over cake when cake is done and allow to stand for 30 minutes before serving.
Place cake on serving platter.
Reviews
Most Helpful
The best rum cake I have ever had. Very easy to make. I added rum where the recipe called for water and also added a teaspoon of canola oil. Made it for friends and they all raved!
UPDATE: I've made this Delicious Rum Cake several times since my first rating & I still can not believe how wonderful it is!!! Today, I used a Lemon Cake mix & pudding...got the idea from Lighthouse Rita...THANK YOU Rita!!! Again, I added blueberries & OMG that was even better than the original recipe!!! I only wish there was 5 more stars!!! THANKS again, for sharing!!!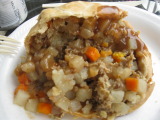 This recipe has a great method to make the cake super moist and infused with rum. Most of the other recipes I looked at didn't have this syrup to make. My cake was very moist and got better with each day. Perfect end to a meal with some vanilla ice cream on top.