Delicious Rocky Road Brownies
Prep 20 mins
Cook 45 mins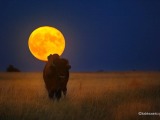 I first tasted these when my mom used to make them when I was a child, and although that was many moons ago, they still make me feel like a kid when I eat 'em! The melted chocolate drizzle at the end makes these brownies rich and very chocolaty!!
Directions
For the brownies, melt chocolate and butter in a saucepan over very low heat, stirring constantly.
Remove chocolate/butter mixture from heat and stir in the sugar.
Beat in the eggs, one at a time.
Be sure to mix well.
Blend in the vanilla.
Combine flour and salt, add to mixture and blend together.
Spread the batter into a buttered 9 inch square baking pan.
Bake in a pre-heated 350 degree oven for 45-50 minutes.
Cool brownies in the pan on a rack for 10 minute.
Topping:.
While brownies are cooling, melt butter and chocolate in saucepan for topping.
Sprinkle brownies evenly with marshmallows and walnuts.
Return brownies to oven and bake another 3 minutes.
Remove brownies and drizzle with the melted chocolate.
Cool in pan, then cut into squares or rectangles.
Enjoy!
Tip:.
If you want to reduce the calories, just cut the marshmallows to 1 cup, and omit the walnuts, but if your gonna eat brownies WHY would ya do that?
Most Helpful
I was looking for a brownie recipe to make for a co-workers Birthday. This was a huge hit! I followed the recipe, but baked it in a 9x13 pan for 35 minutes and added a Tablespoon of milk to the topping to make it more easy to drizzle. They were awesome! I will make these again and again!
I KNOW I have a winner when my husband calls me at work on his lunch hour to ask what it is he is eating because it is GOOOOOOOOD!!! Said with the OO drawn all out! Then I had to reach into my bag and snag a bite of mine....and the rest of it was history. I knew when preparing the batter it was going to be good, but I was unprepared for HOW good. It is amazing light, yet somehow dense and fudgy, gooey yet crispy on the edges, and SOME kinda sweet!!! I omitted the nuts (more for the kids than us) but I think they only would have enhanced the flavor. I know DH will beg me constantly to make these and as they are a snap to make I will happily do so. If you are a brownie lover I highly suggest this recipe to you.
Fantastic! Rich and flavorful, a real winner! I increased the recipe by 50% to fill a 13x9 inch pan. I was a little shy on that much unsweetened chocolate so I used Unsweetened Chocolate Substitute for the remainder and it worked fine. I also had trouble the 'drizzling' the chocolate at the end. I'm pretty sure it was because I was having to use a small microwave but my chocolate was like frosting so I piped it on top rather than drizzling it. No one seemed to care. They were very popular. Thanks OzMan for sharing such a great recipe!