Delicious Oven-Baked Cranberry Barbecue Chicken (Or Turkey Legs)
Bergy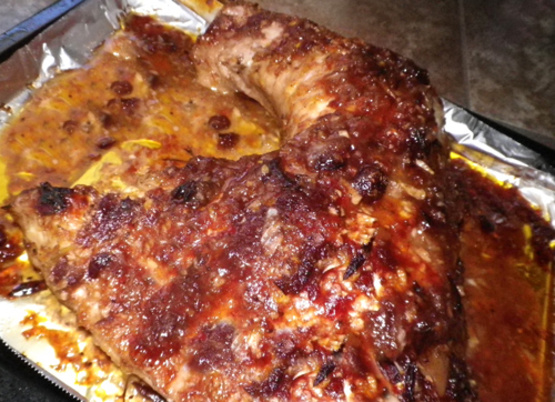 This is SOOOO good! You can double the complete recipe and bake in a roaster pan, throw in a chopped green bell pepper and/or a jalapeno pepper also if desired! Four small turkey legs can be used in place of the chicken, if using larger turkey legs then double the cranberry sauce and BBQ sauce, also the cooking time will need to be increased.

This was a very tasty recipe. I was looking to do something different with the split turkey breast and 4 drumsticks that I had, and this recipe worked out perfectly. I had to make a few minor adjustments: no celery because I didn't have any, and I substituted grape jelly because I didn't have cranberry sauce. I did add the optional cayenne pepper and it was very subtle. I also added a few cut up sweet potatoes to the pan as a side dish. The taste was tangy..A good balance of sweet and slightly sour. This recipe yields a good amount of sauce; if you just want to use the sauce to baste the turkey, you could probably halve the sauce recipe.
Set oven to 350 degrees.
Butter a 13 x 9-inch baking dish.
Heat butter with oil in a large skillet over medium-high heat.
Season the chicken with salt and pepper, then add to the skillet; cook on both side until lightly browned, then place the chicken skin-side up into the baking dish (leave the drippings in the pan).
Add in the onion, celery, garlic and cayenne pepper (if using) adding in a little more oil if needed; sate for about 3 minutes; stir in the cranberry sauce and BBQ sauce; bring to a light simmer, stirring until completey combined, then pour over the chicken.
Bake uncovered for about 50 minutes or until chicken is tender and cooked through, basting with the sauce a couple times during baking.
Delicious!