Delicious Oven Baked Barbecue Baby Back Ribs
tracy c.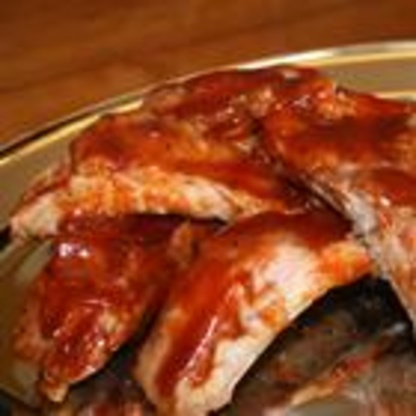 For the best taste prepare the sauce a day ahead to blend flavors --- although I have 6 servings listed for these ribs, my DS and DS could eat the whole thing just between themselves they are that delicious! I have made this recipe using side ribs also but I suggest to boil them first for about 20 minutes before cooking them in the oven for side ribs, I have to say that back ribs are better --- I always most always serve these ribs with my Kittencal's Famous Coleslaw --- you will *love* these ribs!

I made this recipe because it was almost 5 stars. This recipe is worth 1 star, the sause is spicy, not sweet. The ribs texture is somewhat chewy. I like a sweet sauce. I should have know when the sauce recipe called for 1/4 cup chilli powder that this was not the sauce I would like. Even if I used my own sauce, the temp is not right for tender baby back ribs. If you like a spicy sauce, then this would be ok except, I would cook at a lower temp to make the ribs more tender and for a longer period. This is a spicy sauce. I love baby back ribs, this wasn't what I thought it would be. A waste of time and money. This is NOT a 5 star recipe. Maybe 1 or 2 stars. Tender ribs can be boiled then baked or soak in sauce then bake. Much better then the baking temps in this recipe. Beware! this isn't as good as the other reviews make it sound. I will never use this recipe again. Baby back ribs is my favorite food, not good at all with this recipe and baking instructions. I'm completely disappointed! The meat just didn't turn out tasty at all. You won't like this recipe. Review other recipes and select them instead, trust me. I never comment on these but I had to warn people with this one.
Prepare this sauce a day ahead and chill overnight.
In a saucepan combine all ingredients and bring to a slow boil, stirring occasionally to prevent from scorching (about 30-35 minutes).
You can strain the sauce if desired to remove the onion and garlic, that is optional.
Cool to about room temperature; cover and chill overnight or up to 2 days.
Sprinkle ribs with salt and pepper, then let the ribs sit out for 30 minutes at room temperature before baking.
Set oven to 350 degrees.
Grease a large baking sheet/s.
Place the ribs (meat side up) on baking sheet.
Bake the ribs for 30 minutes.
Remove the ribs and brush on about 1/4 cup prepared sauce over each rack of ribs; return to oven and continue to bake for 20 minutes longer.
After 20 minutes, remove and brush another 1/4 cup over each rack, place back in the oven for another 20 minuters.
Repeat again using 1/4 cup sauce this time for about 25-30 minutes (100 minutes baking time in total).
Cut the ribs into thirds and arrange on a serving platter; rub a bit more sauce over the top of the ribs and serve!