Rita1652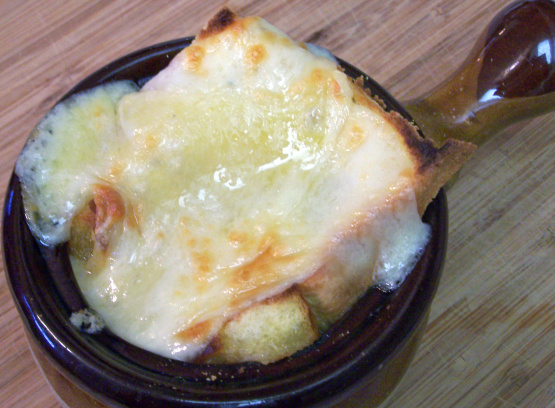 Your guests won't even care about the main course when they get a taste of this soup --- to save some time toast the baguette slices up to 3 days ahead.
Prepare 6 (8-10 ounce) oven-proof soup crocks.
Melt butter in a heavy pot over medium heat.
Add in sliced onions, sugar, thyme, bay leaf and salt; cook stirring occasionally until onions are a deep golden brown (this should take about 25 minutes (you may need to do the onions in two batches to caramalize properly).
Add in flour and cook stirring for 1 minute.
Stir in wine and cook for 1 minute.
Sir in broth, water and black pepper; simmer uncovered for about 30-35 minutes.
While the soup is simmering set the oven rack to middle position at set to 350 degrees.
Arrange the bread slices on a baking sheet and toast turning once until completely dry (about 15 minutes) remove and set to broiler heat.
Place the soup crocks on a shallow baking dish.
Discard the bay leaf from the broth, then divide the broth between the soup crocks.
Place a slice of the toasted bread on top of the broth (do not push the bread down).
Place the slices of Gruyere cheese over the top allowing the ends to hang over the rims of the crocks, then sprinkle with grated parmesan cheese.
Broil 4-5 inches away from the heat until the cheese is melted and bubbly (about 1-2 minutes).