Delicious One Serving Chicken Breast
teresas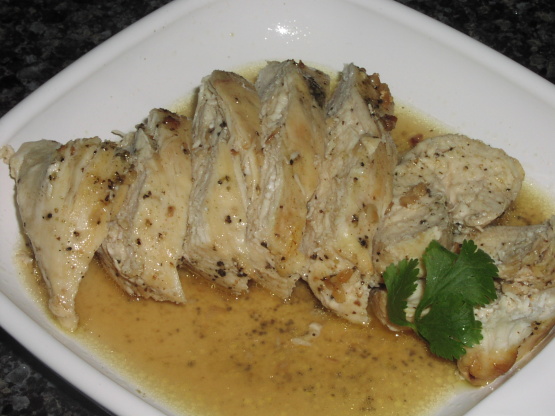 I've found myself alone....one child in college and another out of college, married and working....soooo I find myself cooking for one quite often. This is what I came up with to accompany a sauce I chose to make for one.....the sauce is Mushroom-Sherry Sauce.
1⁄4 teaspoon Cavenders All Purpose Greek Seasoning, divided in half

1

garlic clove, minced
1⁄2 tablespoon butter, melted
1⁄2 tablespoon olive oil
Heat oven to 450 degrees.
Wait 5 minutes, then place a non-stick skillet on a medium heat element. Melt 1 tbsp butter in the skillet. Once it is half melted, add the olive oil. Stir. Add the garlic, and cook 1 minute. Do not let it burn!
Sprinkle the chicken breast with the greek seasoning, half on each side. Place the chicken breast in the skillet. Cook for 4 minutes on medium heat. Turn the oven off, but do not open the door! Flip the chicken over and cook for 6 minutes on low heat, covered.
Remove the chicken and place in an oven-proof dish. Pour the skillet drippings over the chicken breast. Cover with aluminum foil.
Place the dish with the chicken in the oven, and let it sit for 10 minutes without opening the door.
Serve with the pan drippings over the chicken breasts. I cut mine up and then poured the drippings over. Delicious!