Delicious No Knead Refrigerator Rolls
Nimz1466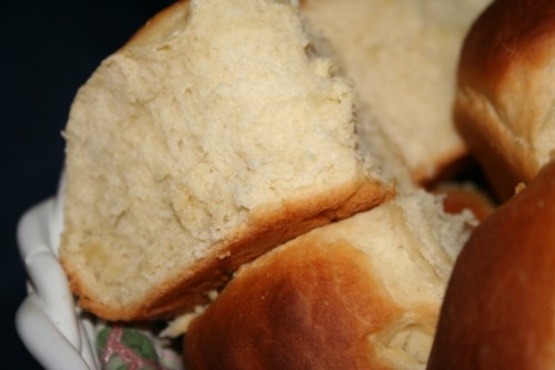 My aunt made these rolls for a post New Year's Eve get together and they were to die for. Delicious! I made them after getting the recipe for her and they are incredibly easy as well. A great recipe for a first time bread maker or and experienced pro! I haven't tried this in the bread machine dough cycle yet, but if you have a large capacity machine, I don't see why it wouldn't work! Enjoy :)

Top Review by MollyM
Wonderful recipe. Added 1/3 c powdered milk and used butter instead of shortening. Made the dough the night before and baked the rolls the next morning. It took 2-3 hours for dough to rise once it was removed from the refrigerator. Rolls baked up light and fluffy and tasted great. Reminded me of what my grandmother used to make!
In a large bowl, dissolve yeast in warm water and set aside to proof.
In another bowl, mix together sugar, salt, shortening, and egg with an electric mixer at low speed.
Add mixture to yeast, and stir in flour; The last 3 cups of flour will have to be mixed in by hand.
Cover dough with a damp cloth, and place in refrigerator; Punch down occasionally as dough rises; (You can leave dough in refrigerator overnight).
Two hours before baking, shape the dough into rolls.
Place on greased pans, baking trays or muffin pans; Let rise 2 hours.
Bake at 400 degrees F for 8 to 10 minutes.