Delicious Low-Fat Carrot Cake
Redsie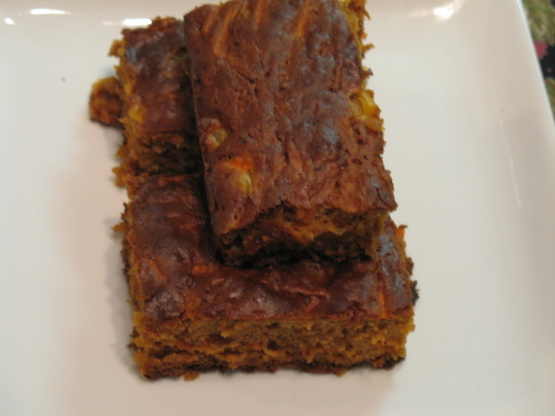 If you prefer more spice then increase the spices, you can also add in chopped walnuts if desired.
Wow! I just took this out of the oven, it's not even cooled yet. I just had to taste it, and I did. This is so moist, so flavorful, I'm just blown away! I keep trying Kitten's low-fat or fat free recipes,as I am on a low fat assignment Lol! I keep waiting to find a low/free (fat)recipe that I don't like! I am not a clove person, and nutmeg is right up there too, so I just put extra cinnamon in it. I had whole allspice so I ground it up. I can't even find 1 thing wrong with this recipe! Thanks so much for sharing, Kitten! This is definately a keeper!
Set oven to 350 degrees.
Grease a 13 x 9-inch baking dish.
In a bowl combine the cake flour, baking soda and spices.
In another bowl beat egg and egg whites together with sugar and oil until light and fluffy (about 3 minutes).
Stir in buttermilk and vanilla; mix until combined.
Gradually add in the flour mixture to the liquid mixture using low speed or with a wooden spoon.
Add in shredded carrots and pineapple into the batter; mix until combined using wooden spoon.
Transfer mixture to prepared baking dish.
Bake for about 35-40 minutes or until the cake tests done.
Cool completely if frosting.