ImPat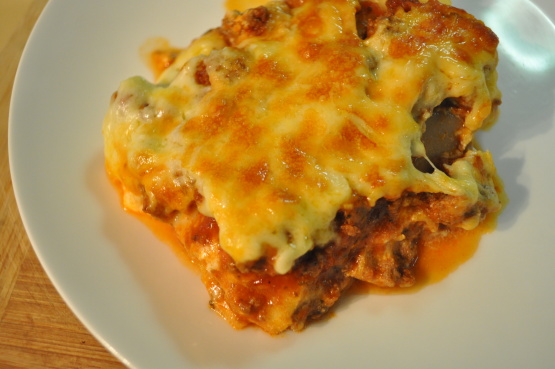 I got this recipe from an Italian friend. You might find the addition of cream cheese unusual, but it is really delicious!

Top Review by ImPat
First of all changes I made, for dietary reasons I omitted onion and peppers and upped the mushrooms (swiss brown) to 2 cups (I scaled back for 5 serves but got 8)and I used fresh pasta sheets (no cooking) and fresh basil, oregano and garlic (all from the garden) and a basil pasta sauce for the tomato puree (I think the pasta sauce is our equivalent in Australia) but this is were I OOPSED - I sauted of the mushrooms and set aside and then cooked the extra lean mince (ground beef) and just automatically put in the mushrooms and all the pasta sauce. My layering went like this (my dish would only allow me 2 layers) meat sauce, cream cheese mix, some mozzarella, lasagne noodle sheet, meat sauce, cream cheese mix, mozzarella, lasange sheet and finally meat sauce and mozzarella and covered and cooked as directed. At the 45 minute point I removed the alfoil which took a fair amount of the cheese with it so sprinkled some more on top (hadn't used it all) and back in the oven till a nice golden colour. The surprise factor was that when we have previously tried lasagne using ricotta is that it has a curdled effect which has put us off but I think the blending of the cream cheese (in both cases I used the lowest fat one I could get) minimised this and there were no "YUK" reactions and with a salad and garlic bread was very much enjoyed. Thank you Lainey6605, made for Potluck Tag.
1

lb lasagna noodle

1

lb lean ground beef, cooked and crumbled

2

medium onions, chopped

2

medium green peppers, chopped

2

cups fresh mushrooms, sliced

1

(16 ounce) container ricotta cheese

2

lbs mozzarella cheese, shredded

1

(8 ounce) package cream cheese

2

(28 ounce) cans tomato puree
olive oil, enough to saute vegetables
salt, to taste
pepper, to taste
garlic powder, to taste
oregano, powder to taste
fresh sweet basil, chopped
Boil lasagna noodles, according to package directions.
Sauté beef, then add salt, pepper, and some of the pureed tomatoes. Sauté the veggies in olive oil, then add garlic powder and oregano powder. Mix the beef and veggies into one pan.
In a separate bowl, mix the Ricotta cheese, cream cheese, and some fresh chopped basil.
Putting the lasagna together:.
First sauce the bottom of your lasagna pan.
Next, add a layer of lasagna noodles, followed by a layer of meat and veggies.
Add a layer of mixed cheese (Ricotta and cream cheese), then a layer of sauce.
After that, add a layer of shredded mozzarella.
Repeat these steps two more times to create three layers total.
The last layer should be mozzarella.
Cover and then place into a preheated oven at 350°F for 1 hour or until done to your liking.