Delicious Homemade Dijon Mustard
Axe1678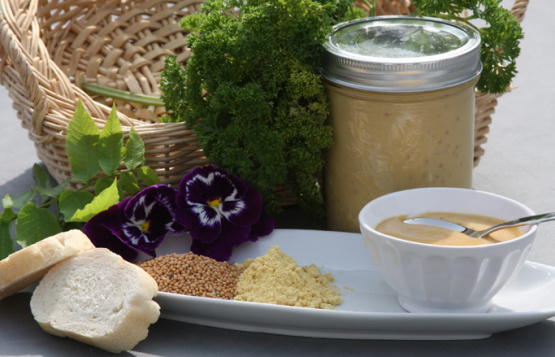 Why bother with store-bought purchased expensive Dijon mustard when you can make it yourself and it tastes just as good if not better, I know I make it all the time! --- plan well ahead this mustard needs to marinate in the fridge for 2 weeks before using the longer you leave it in the fridge the better it will be!

This was really, really great. I feel compelled to note, though, that it comes from "Gourmet Mustards: The How-Tos of Making & Cooking with Mustards," by Helene Sawyer and Cheryl Long. I just finished making it from their book, and checked here to see if it had been posted (because I was going to!) I'm glad you made it public; this is a wonderful recipe. I've tried several other Dijon mustard recipes, but this is by far the easiest, and frankly I think it gives the best results. I used two different types of mustard powders from Penzey's -- the milder yellow mustard powder, and the spicy-hot Chinese mustard powder. I also threw in some juniper berries with the onion and garlic (got that from another recipe). I will never buy Dijon mustard again! This was much, much better, and not too time-consuming to make. Thanks for posting this!
In a non-stick saucepan combine the wine, onion and garlic; heat to boiling, simmer 5 minutes.
Cool, and discard solids.
Add the dry mustard to the cooked liquid, stirring constantly until smooth.
Blend in honey, oil and salt; heat slowly until thickened (keep nose away; fumes are strong!), stirring constantly.
Pour into a glass jar; cool, let sit on counter at room temperature overnight.
Refrigerate for 2-8 weeks to age flavor before using.