Delicious Ham and Potato Soup
Marlene.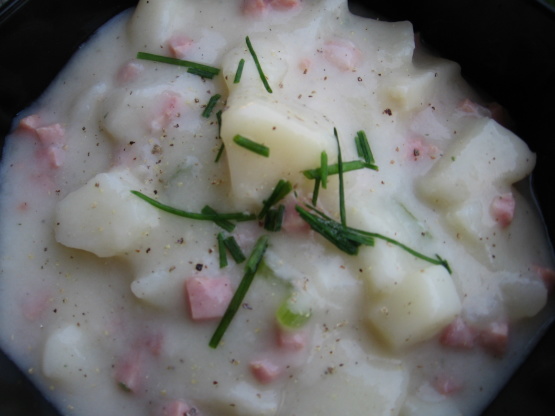 This is an amazing soup from Toronto, Canada. Great for cold weather outside!

I really enjoyed the fact that this recipe didn't use cheese: sometimes soups w/ cheese don't reheat well :-). Husband loved this! I cut the recipe in 1/2 but ended up using about 1 cup of lean turkey ham. I used veggie broth for the water (omitted bouillon) & liked the fact that the flour/butter combo was made separately & then added to the meat mix. It was very good & I hope hubby requests it again :-). Thank you!
Combine the potatoes, celery, onion, ham and water in a stockpot. Bring to a boil, then cook over medium heat until potatoes are tender, about 10 to 15 minutes. Stir in the chicken bouillon, salt and pepper.
In a separate saucepan, melt butter over medium-low heat. Whisk in flour with a fork, and cook, stirring constantly until thick, about 1 minute. Slowly stir in milk as not to allow lumps to form until all of the milk has been added. Continue stirring over medium-low heat until thick, 4 to 5 minutes.
Stir the milk mixture into the stockpot, and cook soup until heated through. Serve immediately.