Delicious Golden Mustard Pickles
Scott B.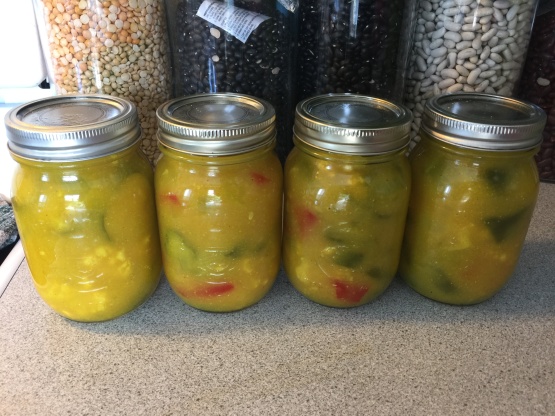 These are the best mustard pickles that you will ever have...if you love mustard pickles, and have some time, these are well-worth the time and effort to prepare, once you make these a few times, you will probably do them with your eyes closed!...a definate must-make! Note: plan ahead, the blanched veggies have to sit for 12 hours.
Trim the core off of cauliflower; cut into bite-size florets to make 8 cups.
Place in a large stockpot, along with cucumbers, onions, red and green peppers.
Sprinkle with 1/2 cup pickling salt; cover with cold water.
Set aside in cool spot (do not refrigerate) for 12 hours.
Return the pot to element; bring veggie mixture just to a boil, over med-high heat; drain in large colander, discarding brine.
Set the veggies aside.
Rinse the pot.
Add 4 cups of vinegar; bring to boil over medium heat.
Meanwhile, in a large bowl, whisk together, sugar, flour, mustard and tumeric powder; whisk in 1 cup water, and remaining vinegar to make a smooth paste.
Whisk into hot vinegar, and bring to a boil; reduce heat, and simmer, stirring constantly until smooth and thickened (amout 3 minutes).
Add the veggies, stir to coat.
Bring to a boil, stirring gently.
Ladle into 2-cup hot canning jars, leaving 1/2-inch head space.
Cover with warm discs; screw on bands fingertip tight.
Process in boiling water canner for 10 minutes.
Remove, and let cool on rack.