Delicious Eggless Zucchini Bread
cindyebf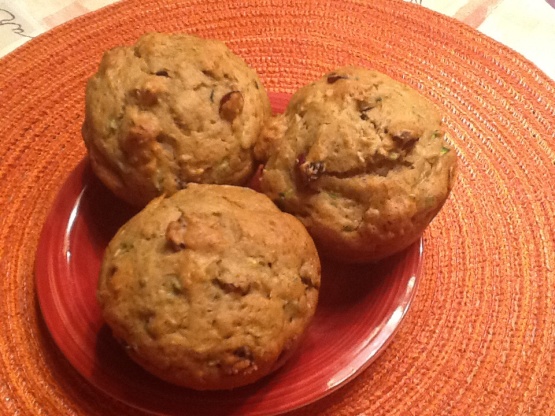 What can I say, I love bread!!! And this bread is just one of my absolute FAVORITES!!!! Originally this was an experiment I tried about a year ago when I ran out of eggs. I wanted zucchini bread sooooooo badly, but didnt have any eggs around the house. I decided to substitute the eggs with yogurt, and have NEVER made this bread with eggs since.

Top Review by corkat
I have terrible allergies to eggs and all dairy products. I can't usually eat things like this. Once in a while I try to find allergy free recipes. I replaced the yogurt with firm tofu! It still turned out really great. I shared it with friends and they all loved it. Once they found out it had tofu, they were really surprised, and said they would not have even tried it if they new it had tofu! I also made muffins instead of bread. I liked the muffins better. They turned out deliciously crispy on the outside. Thank you very much for this recipe.
Preheat oven to 350 degrees, and grease ONLY the bottoms of two loaf pans.
Measure yogurt into a medium sized mixing bowl.
Add sugar and blend until creamy and slightly thick approx 2-3 minutes (I even do this with a whisk as I am without a mixer at this time!).
Add oil and blend through.
Add zucchini and vanilla and stir until mixed through.
Sift flour in a medium bowl and add cinnamon, nutmeg, baking powder& soda, and salt to it.
Add dry ingredients to wet ingredients a little at a time.
I like to slowly mix it in with my whisk.
Fold ingredients into each other just until nicely combined.
Pour'batter' into loaf pans, and put into oven.
Bake for 1 hour (60 minutes) and check to see if it is done (knife poked through center should come clean when done).
If it is not done, continue to bake for additional time.
It could take between an hour and an hour and a half to bake completely.
ENJOY!