Delicious, Easy, Restaurant-Quality Eggplant
loof751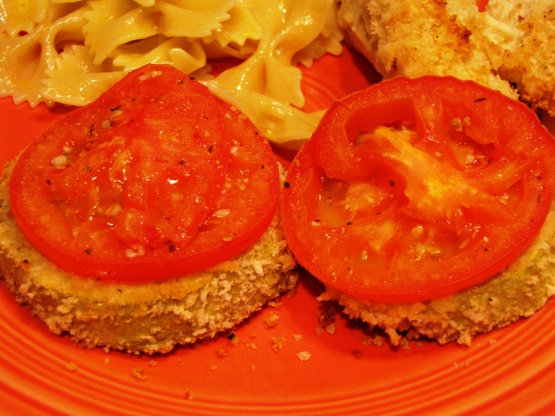 I got the base idea for this recipe from AllRecipes. I found that when made as the recipe stated, it really received mixed reviews. I started my tweaking process and my end result are these! I've been told many times these are more than restaurant quality. I serve these as a side dish to my Italian main courses. My husband and kids adore these! Hope you love them too.

well i love eggplant and i was hopeful that i found a healthier alternative to my pan fried version but this wasn't it for me. i followed directions exactly and it was just too bread crumby? didn't really taste the eggplant itself and the tomatoes didn't add nything either so i'll keep looking thanx anyway
Preheat oven to 375 degrees F (190 degrees C). Grease a baking sheet or pizza pan with olive oil.
Peel the eggplant.
Slice the eggplant into round slices, each 1/4 to 1/2 inch thick.
Slice the tomatoes and drizzle the dressing over all of them so nicely coated. You may need more dressing depending on how much tomato and eggplant you make. I probably use closer to 1/2 cup for mine. Set aside.
In a small bowl, whip together the egg and water.
Place the breadcrumbs in a separate small bowl and combine with parmesan cheese, garlic powder and crushed red peppers.
Dip the eggplant slices one at a time into the egg and water mixture, then into the breadcrumbs. One by one, place the coated slices in a single layer on the prepared baking sheet.
Bake the eggplant for about 12 minutes on the first side. Using a spatula, flip the eggplant over and top the slices with the tomato's covered in dressing.
Sprinkle a bit more parmesan cheese if you like.
Bake the eggplant on the 2nd side for 10-12 more minutes or until desired doneness.