Kiwiwife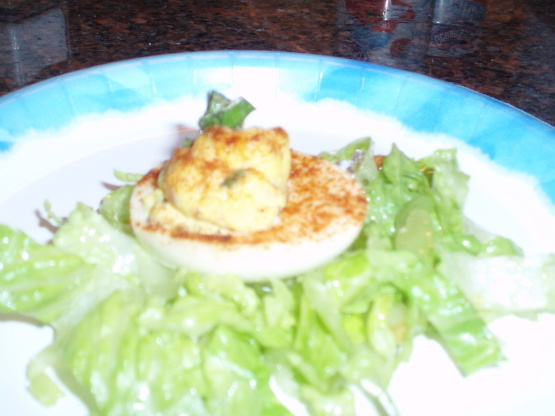 I made these for a mothers day picnic and the were GONE in no time!!

Top Review by Sarah
I first made this recipe for P.A.C 06, and have made it again since. Delicious! I halved the recipe the first time, as we were having other apertisers as well - boy what a mistake! Didn't do that again! lol. They were the first to go and loved by all. Very easy to make with ingredients I would usually have on hand - definitely a keeper.
Cover eggs with cold water and bring up to a simmer for 3 mins then cover pan and turn off heat let sit for 14 minutes.
Meanwhile chop chives and shallots.
Peel eggs and slice lengthwise dropping egg yolks in a bowl.
Mash yolks and add all ingredients except paprika. Depending on how dry eggs are, adjust mayo & mustard to achieve a consistency of frosting.
Place in a ziploc, cut tip of & pipe back into egg whites.
Garnish with paprika and fresh chives.