Delicious Deep Fried Artichokes
GeeWhiz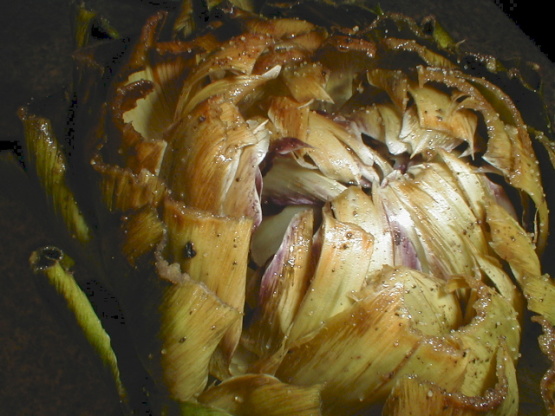 This is an usual, yet melt-in-your-mouth, way to make artichokes! Add lots of salt and pepper and you will be in for a delicious treat! From one of Suzanne Sommers' cookbooks!

I just returned from a trip to Rome, where this was the hottest item on the menu, especially in the Jewish Ghetto. They called it "Jewish Artichokes" and everyone wanted to try it. It was served on a plate with the stem up and draining on paper. We picked at it like it was potato chips and it went great with a glass of wine, as an appetizer.
4

large artichokes
salt and pepper

2

quarts cooking oil
Wash and dry artichokes.
Remove tough outer leaves and bottom stalks from artichokes.
Pull leaves apart until center is slightly exposed.
Liberally sprinkle salt and pepper inside of the artichokes, between the leaves.
Heat oil in deep fryer until it reaches 350°F.
Add the artichokes to oil and cook for 10 mins, until crisp and golden.
Turn artichokes often, pressing them against the pan to open.
Drain on paper towels.
Sprinkle liberally with additional salt and pepper, and dig in!