Delicious Curried Chicken Salad
PaulaG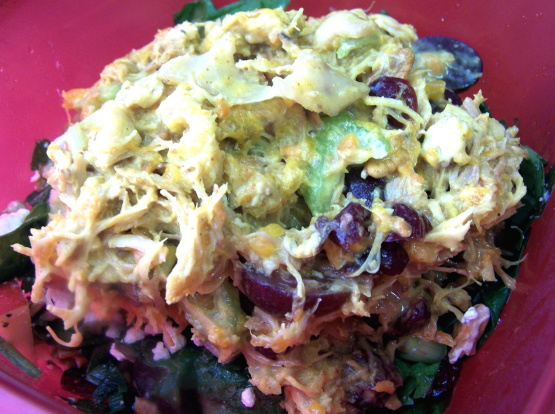 If you are a curry lover, then this chicken salad is worth trying, it is very good! You can add in onions also if desired, peanuts can be subbed for the walnuts. Plan ahead, this needs be refrigerated for a minimum of two hours or more. Prep time includes refrigeration time

Very good chicken salad. Made it for a luncheon and got rave reviews. Everyone asked for the recipe. Used diced apple and toasted pecans. Substituted peach/mango jam for the apricot jam and sauteed the curry in a little oil with a quarter of a chopped onion which I pureed into the dressing. Completely forgot about the cream and no one missed it.
In a large bowl, mix together the chicken and all remaining ingredients (except the dressing ingredients); mix well to combine.
For the dressing, mix/whisk all dressing ingredients adjusting salt and pepper to taste.
Gently add/mix in dressing with the chicken salad in the bowl; toss well to combine.
Cover and refrigerate for a minimum of 2 or more hours before serving.
Delicious!