Delicious Crock Pot Barbecue Ribs
Nimz1466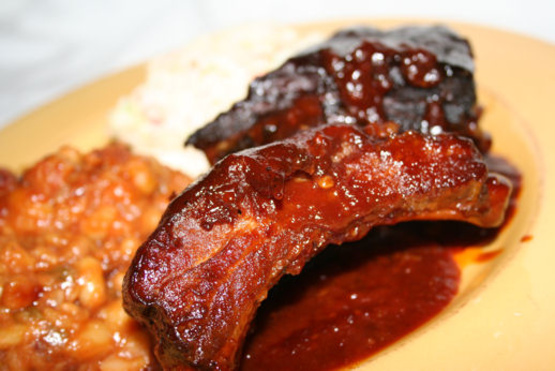 These can also be cooked in the oven and I have done so many times, prep time includes browning the ribs ;-)

Oh WOW!! Let me tell you...I changed this recipe a LOT and still it was probably the best meal I've had in 6 months! I was searching for a BBQ pork recipe but most of the recipes called for just pouring a bottle of sauce into a crock pot. I wanted something more. Kitten's recipes have never failed me so I searched her recipe arsenal and this one caught my eye. I used a 2 pound pork tenderloin that I did not sear in the oven first. I used Open Pit original BBQ sauce and Heinz Chili Sauce. I did about 6 shakes of Tabasco and added a minced onion to the mixture. I cooked this in the crockpot on low for 4 hours, shredded the meat, and let the meat sit in the sauce for 30 more minutes. I served this on buns with hot giardiniera. OH MY!!!! I ate more tonight than I have EVER eaten! That's a bad thing...but this was pure HEAVEN. Kitten...you have a gift with these recipes. Thank you so much for this true winner!
Set oven to 400 degrees F.
Season ribs with seasoned salt or white salt and pepper.
Place the ribs on a greased baking sheet.
Bake/brown for 20 minutes, then turn over and bake/brown for another 20 minutes.
Place the ribs in the crock pot.
In a large bowl mix together ketchup, BBQ sauce, brown sugar, apple cider vinegar, Worcestershire sauce, Tabasco to taste and garlic; mix well to combine; pour over the ribs then turn to coat with the sauce.
Cover and cook on LOW for 6-8 hours or until ribs are tender.
Delicious!