Junebug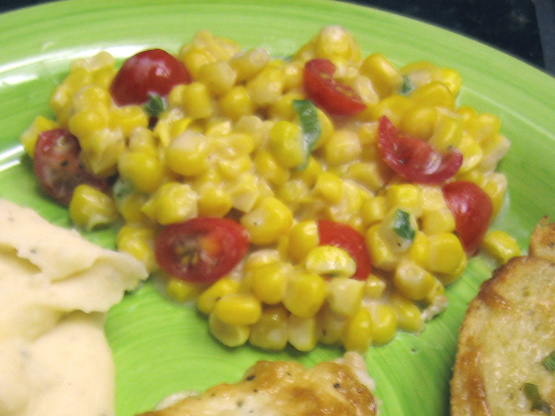 I love corn and I REALLY love corn prepared this way! It's so quick to make and you usually have the ingredients on hand. The tomatoes provide a nice splash of color. Enjoy!

I loved this recipe! It was simple to put together and uses ingredients I usually have on hand. The only change I made was using a little less butter. The result was a delicious and pretty side dish. I served this with Low Fat Cream Cheese Mashed Potatoes and Melt in Your Mouth Chicken Breast. Thank you for sharing your reccipe with us KC_Cooker!
In a large skillet, saute the onions in butter for 2-3 minutes or until tender.
Stir in the corn; cover and cook for 4-5 minutes or until heated through.
Meanwhile, in a small bowl, combine the cornstarch, cream, water, salt and pepper until smooth.
Stir into corn mixture.
Bring to a boil; Cook uncovered for 2 minutes or until thickened.
Stir in tomatoes and serve!