brewabel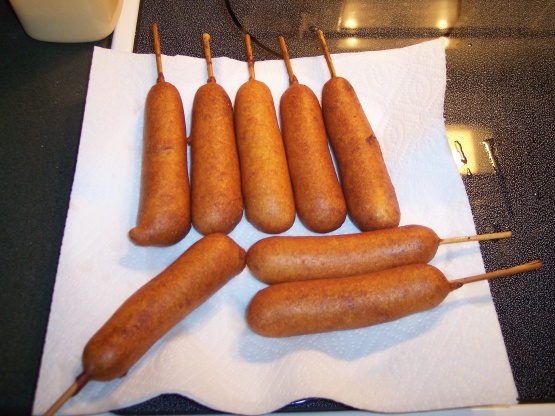 I use "Schneider's Juicy Jumbo" hot dogs for these, as they are quite large and hold well under the corn meal coating, I am not certain if they sell this brand in the states, if not just make certain that the hot dogs are a larger size. These are really good!
Forgot to buy skewers so it was messy but my kids loved it, so I'd definitely make it again.
Mix the first 10 ingredients in a bowl (if the batter is extremely thick then add in a litle more milk use just enough to hold the batter onto the hotdog do not add in too much milk or the batter will not hold on).
Transfer the mixture to a shallow dish (I find that an 11 x 7-inch baking pan works well for this).
Push the wooden skewers into the hot dogs.
Roll/coat the hot dogs well with the cornmeal mixture.
Heat oil to 375 degrees F.
Deep-fry the corn dogs for about 2 minutes until golden brown (do not over fry as the corn dogs will have a burnt taste, 2 minutes should be enough time).
Drain on paper towels.