Delicious Coquilles St. Jacques
K9 Owned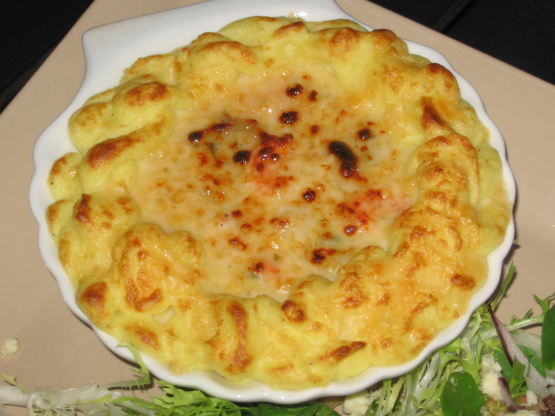 I love this dish. So creamy and delicious. I can't remember where I got this recipe from. It is the one I turn to all the time. I have the ceramic scallop shells for this dish. You can also add a dash of cayenne pepper to the sauce

Top Review by WiGal
Elegantly delicious! I assembled the day before and tried using my spritz press for the potato aspect but that did NOT work-clumped up and was not a pretty sight. The next day I set it on the counter before attending church so it would come to room temperature, reheated at 400 for 10 minutes, and then broiled. I served it with a salad, steamed broccoli, and Recipe#186332. Ours served 4 people not 6 but it would depend upon how many sides you had too. I used the pepper (we are pepper people). Loved the bay leaf in the bouillon and the parmesan on top! Could not taste any lemon so I would double that the next time. Thank you FrenchBunny for sharing. Made for Everyday is a Holiday game.
Prepare bouillon:.
Combine the ingredients for the bouillon with only 1/2 cup of wine in a medium saucepan. Bring to a boil and simmer 10 minutes. Add other 1/2 cup wine and scallops and simmer another 5 minutes. Drain and reserve liquid and scallops only.
Prepare sauce:.
Melt butter and saute onions and mushrooms until tender. Remove from heat and stir in flour and pepper, blend well. Put back on heat and gradually stir in cream, bring just to boiling stirring constantly. Reduce heat and simmer until thick 4-5 minutes. Add Gruyere and stir until melted. Remove from heat , stir in wine and 1/2 cup prepared bouillon and parsley. Add scallops and mix well. Divide into 6 scallop shell dishes.
Prepare potatoes:.
Peel potatoes and dice and cook. Mash potatoes with butter,milk,salt, pepper and yolk. Pipe potatoes around scallop shells on the edges only using pastry bag and star tip. Sprinkle with Parmesan cheese all over.
Place shells on baking sheet or cookie sheet. Broil 4 " from heat on low until golden brown and heated through. About 2-3 minutes. Depends how cool things became when assembling you can also put in 400F oven for a few minutes first then on broil.