Delicious Chocolate, Apple, Walnuts Pie
awalde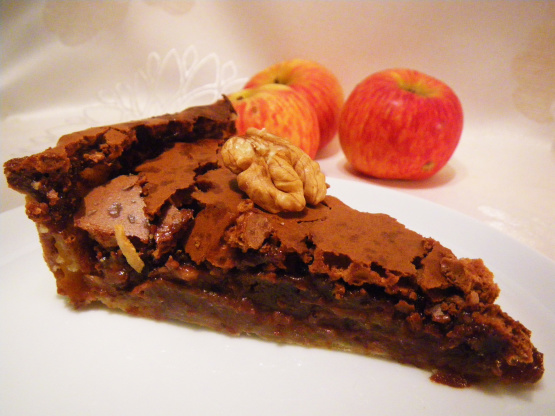 This recipe is variation on alligirl's Simple Chocolate Chess Pie #357944. This pie enriched with apples and walnuts.

This makes for a nice variation of the usual chocolate brownie pie, & is just the right kind of chocolate fix for the likes of us! Delicious & a keeper, to boot! Thanks for sharing it! [Made & reviewed in I Recommend recipe tag]
Preheat oven to 180°C (350º) (heat and timing are basing it on convection oven).
Prick pie crust and par- bake for 5 minutes.
Beat eggs well.
Add sugar and beat again.
Add milk, vanilla, chocolate and butter and mix well again.
Pour apple, walnuts and finally the chocolate mix into pie crust.
Bake at 180°C (350º) for 30-35 minutes or until pie begins to crack on top.