Delicious Chicken Pot Pie
SharonChen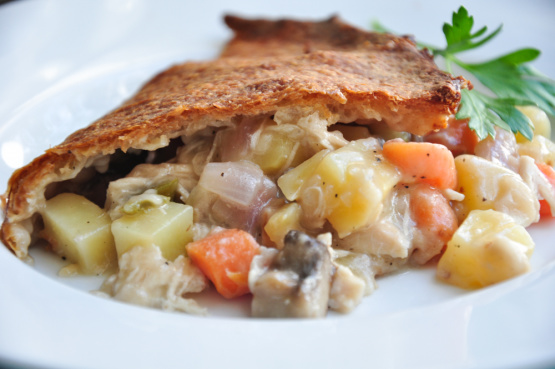 This chicken pot pie recipe takes a little time, but it is WELL WORTH IT!! This is an all-time favorite in our family. Great on a cold winter day.

This is without a doubt the best chicken pot pie I've ever made or eaten in my life!!! My boys said, "it was da bomb", (meaning excellent). I had to double the recipe to make a big 9 X 13 pie to feed my gang, so I had alot of work ahead. I did all the prep work (minced the onion, peeled and diced the potatoes and carrots, and diced 1.5 lbs. of chicken breasts then cooked them in 2 cups of broth and a bay leaf) the day before then refrigerated it all until the next day, when once I made the top crust, it was a snap to do the rest. I just had to cook the already peeled and diced potatoes/carrots, warm the chicken in the micro and make the sauce. Ohhhh so delicious!!
Preheat oven to 400°F.
Saute onion, celery, carrots and potatoes in margarine for 10 minutes.
Add flour to sauteed mixture, stirring well, cook one minute stirring constantly.
Combine broth and half and half.
Gradually stir into vegetable mixture.
Cook over medium heat stirring constantly until thickened and bubbly.
Stir in salt and pepper; add chicken and stir well.
Pour into shallow 2 quart casserole dish and top with pie shells.
Cut slits to allow steam to escape.
Bake for 40-50 minutes or until pastry is golden brown and filling is bubbly and cooked through.