Delicious Chewy Peanut Butter Chocolate Chip Oatmeal Bars
lets.eat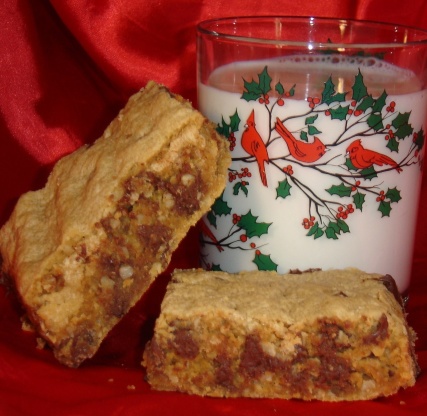 These are the *best* bars and so easy to make, the trick to these is not to overbake, mine bake out perfectly in a 350 degree oven, second-lowest rack for 22 minutes, servings is only estimated --- add in 1 teaspoon cinnamon also if desired --- this was developed using full-fat peanut butter :)
Very very good! I cut down on the sugar...3/4 c. of each. Didn't seem to make a difference, still sweet enough! I also used 1/2 cup butter, and 1/2 cup butter flavored crisco. I baked in a 9x13 inch glass pan, and it took about 23 minutes until done. Very good texture and flavor. Thanks Kittencal!
Set oven to 350 degrees.
Set oven rack to second-lowest position.
Grease a 13 x 9-inch baking dish.
In a large bowl using an electric mixer at medium speed cream the butter with both sugars and vanilla until no sugar granules remain (about 4 minutes).
Add in the peanut butter and beat until combined.
Add in eggs and beat until combined.
In a bowl combine the flour with baking soda and oats; add to the creamed mixture and mix on low speed until combined.
Mix in chocolate chips.
Transfer and spread into prepared baking dish.
Bake for 22-25 minutes or until JUST set (do not overbake).
Cool then cut into squares.