Delicious Cheesy Baked Potato & Bacon Soup
Kim127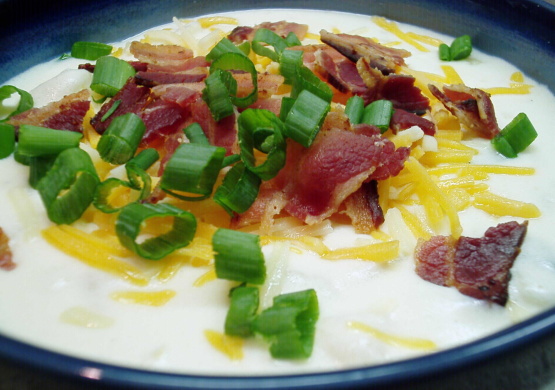 This is a delicious creamy thick soup. I make it quite often, it's a family favorite, I also add in some cayenne pepper, if you are not a lover of garlic you may omit--- It is so filling that I usually just serve it as a main meal with crusty bread on the side, and a salad.

This was an easy to make soup and delicious. We made it last winter and was perfect for dinner on a cold evening. Tasted even better when reheated the next day. Looking forward to making it again soon.
In a large soup pot melt butter over medium-high heat.
Add in garlic; cook stirring for about 2 minutes.
Add in flour then stir until smooth (about 1 minute).
Gradually add milk and half and half stirring constantly until thickened and smooth.
Add potatoes and onions; bring to a boil, stirring constantly.
Reduce heat; simmer for 10 minutes.
Add remaining ingredients; stir until cheese is melted.
Serve immediately.
Delicious!