Delicious Cheesy Bacon and Green Onion Potato Skins
lazyme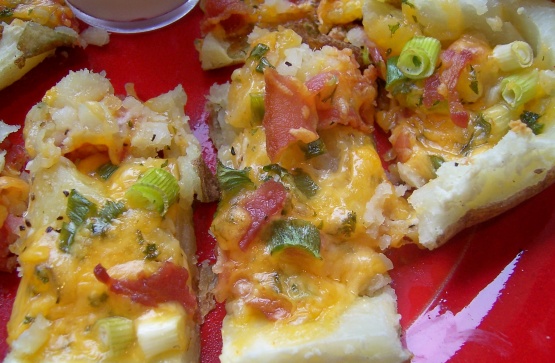 These are easy to make and can be made hours in advance or a day ahead and chilled until ready to pop in the oven, instead of cheddar you can use a mixture of you favorite cheeses, I like using marbled mixed with the cheddar. If you are serving these as an appetizer you can use 10-12 small russet potatoes instead of large --- all ingredients may be adjusted to taste --- these are very good!

Made for 2013 Zaar Cookbook Tag game for the football game and sooo glad I did...delicious!!! I did put some oil and seasonings on the potatoes at the beginning the flip the potato skins over and baked to crisp and followed the rest of the instructions. Going into my Favorites of 2013...Thank you for posting.
Set oven to 400°F.
Wash the outside of the potatoes, then dry very well.
Place on a baking sheet.
Bake for about 1 hour, or until the potatoes are tender (cooking time will vary depending on the size of potatoes).
Cool until able to handle.
Keep the oven heat to 400°F.
Slice the potatoes in half lengthwise.
Scoop out the pulp leaving about 1/2-inch thick layer of the cooked potato on the skins.
Oil a large baking sheet.
Place the skins on the baking sheet (skin side down, pulp side facing upwards).
Sprinkle the inside with salt and pepper and grated Parmesan cheese (if using).
In a bowl combine the shredded cheese, chopped bacon, parsley and cayenne pepper; mix to combine.
Evenly divide the cheese mixture over top of the skins.
At this point you can cover tightly with plastic wrap refrigerate until ready to serve.
Bake for about 25 minutes, or until the skins are crisp and the cheese melts.
Transfer the skins to a platter and sprinkle with finely chopped green onions.
Serve with sour cream and/or barbecue sauce.