Delicious Breaded Pork Chops
Prep 20 mins
Cook 30 mins
I got this recipe from another cooking site and it's one of my family's favourites. The chops come out moist and tender with a buttery, crispy coating. I use 1/2" thick chops for this recipe but any type will do with a simple adjustment in the cooking time.
Directions
Combine crushed saltines, parmesan cheese, italian seasoning and garlic powder together and mix well.
Dip each chop in melted butter and then dredge in cracker crumb mixture, coating all sides thoroughly.
Place chops in a 9x13 baking dish.
Bake at 425 degrees for 30-40 minutes or until done.
Most Helpful
I didn't have any saltines, so I used PANKO breadcrumbs, instead....NOT big on parmesean cheese, so I cut that out & added some herbs. Other than that, these were VERY tender & tasty!!! THANKS for sharing!!!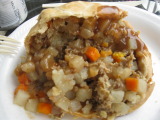 These are delicious. I am not a big pork chop fan, but I loved these. I didn't have any saltines so I used crisped rice cereal. I also added minced garlic from a jar to the melted butter. They were gone in no time.
Very much enjoyed this. I used 1" boneless chops and baked them for 30 min. Since I had some Asiago cheese that needed to be used, I subbed it for the Parmesan. :)