Delicious Blueberry Muffins With Crumb Topping
SueOO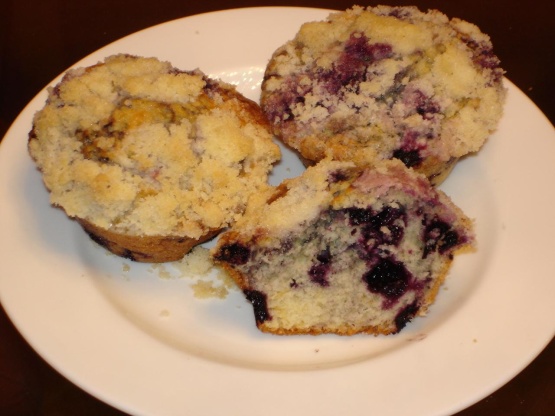 These are a delicious twist on the standard blueberry muffin. Yummy!! This recipe was sent to me from my friend Shanna who is baking muffins like crazy in her last trimeseter of pregnancy :)

This is the best muffin recipe I have ever made. I agree with the other poster that said these would be good even without the topping. I made a couple of changes, nothing major though. Swapped the regular milk for buttermilk, added a tsp. of vanilla and used frozen blueberries (I heated and drained them before adding to mixture). Baked at 375 instead of 400, felt that was too hot for my oven. Awesome! I can't wait to try them again.
Preheat oven to 400 degrees F.
Grease muffin cups or line with muffin liners.
Combine 1 1/2 cups flour, 3/4 cup sugar, salt and baking powder.
Place vegetable oil into a 1 cup measuring cup; add the egg and enough milk to fill the cup.
Mix this with the flour mixture.
Fold in the blueberries.
Fill muffin cups right to the top, and sprinkle with crumb topping mixture.
To Make Crumb Topping: Mix together 1/2 cup sugar, 1/3 cup flour, 1/4 cup butter, and 1 1/2 teaspoons cinnamon.
Mix with fork, and sprinkle over muffins before baking.
Bake for 20 to 25 minutes in the preheated oven, or until done.