Delicious Apple Dumplin's
JAByrd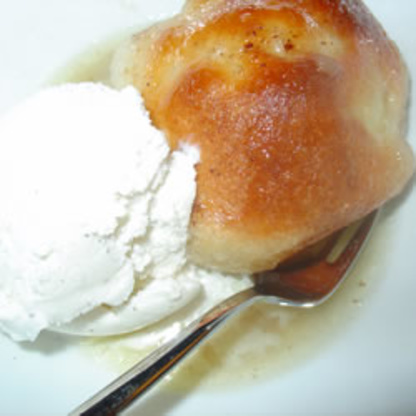 This is the most amazing desert ever invented. I picked this recipe up from my step-mother, who in her past life must have been a chef! EVERYONE loves these and they are soo easy to make! I hope you enjoy them as much as we do!
8

crescent rolls (1 Can)

2

apples (quartered)
cinnamon-sugar mixture

1

cup sugar

1

cup orange juice
1⁄2 cup butter (melted)
Quarter apples and place each piece in the triangled crescent roll.
Sprinkle the cinnamon-sugar mix around apple. Fold the crescent rolls over the apple, and sprinkle with cinnamon-sugar mix again.
Mix sugar, orange juice, and butter until sugar is mostly dissolved and pour over the apple dumplin's.
Bake at 350 for about 45 minutes. About half way through, use a spoon to spread juice over the apple dumplin's to keep them moist! Cook for remaining time.
Enjoy!