Delicious and Spicy 'who Needs Meat' Vegetarian Taco Casserole
hxnnxh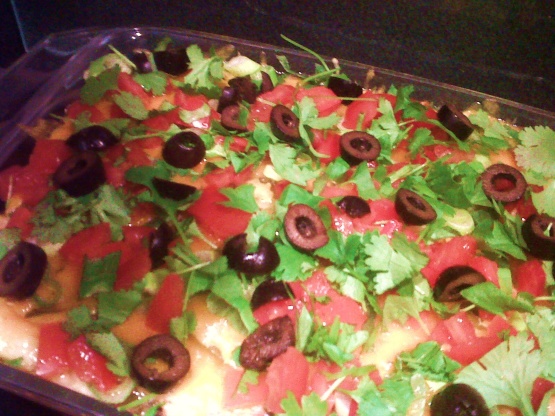 One day, I was craving for mexican food but I had a vegetarian friend over for dinner, so I decided to experiment with a vegetarian take on my favorite taco casserole dish, which turned out, to my surprise, even better than the original! Instead of using tortilla chips, you can also just scoop some of the casserole in a soft taco, this is actually really good as well, especially when served with some guacemole!

I actually made this recipe roughly 2 weeks ago however; my review got lost somewhere in Cyber Space. I will start off by telling you that I had some very disappointed kids when they found out I was not making our normal nachos. When my oldest daughter read that there was corn in the recipe she stated she was not having dinner that night.
I made a few minor changes to the recipe that I will note here. First off, I omitted the red kidney beans and doubled the black beans so that my husband would eat it. I do not own a microwave, so I placed all ingredients as directed in my large covered pan and heated it on the stove top. That method was working so well, that I layered the last ingredients placed the cover on top and continued cooking it on top of the stove. When it was finished cooking, I removed the dish from the heat and uncovered the pan to keep it from building up steam.
I placed chips on everyone's plates, spooned the casserole mixture over them. I then topped it all off with the sliced olives, chopped tomato, shredded lettuce, fresh cilantro and a dollop of sour cream. My daughter who was skipping dinner for the night came into the kitchen and asked what the delicious smell was. She even went back for seconds. My other kids all agreed that the corn though quite surprising was such a nice addition. I personally loved the contrast it added to the dish...the hint of sweetness that shown through the spices, and the crisp texture was just wonderful. As for my husband, he did not care for the change from his old stand by of refried beans, ground beef and cheese, so I will be making this recipe on nights when he has to work a late shift. Made and reviewed for Spring PAC 2012.
1

(14 1/2 ounce) can refried beans

1

(15 ounce) can black beans, drained

1

(15 ounce) can red kidney beans, drained

1

(8 ounce) can sweetcorn, drained

1

(7 ounce) jar hot salsa

1

tablespoon habanero sauce
1⁄4 teaspoon dried chili pepper flakes

1

(7 ounce) jar jalapeno peppers, drained

2

cups cheese, grated (Monterey Jack, Cheddar or Gouda)
1⁄2 cup black olives, sliced

2

scallions, sliced (use the light green-green parts)
1⁄2 cup diced tomato
1⁄2 cup coriander, chopped

1

(8 ounce) bag nacho chips
Preheat oven to 350°F Combine refried beans, black beans, kidney beans, corn, salsa, habanero sauce, chili flakes, and half of grated cheese. Chop up half the jalapenos and stir inches Transfer mixture to microwave proof oven dish and cover with microwavefoil.
Microwave on high for about 8-10 minutes until hot and bubbly.
Put remaining jalapenos on top, sprinkle remaining cheese over dish, sprinkle scallions and olives.
Transfer to preheated oven until cheese is melted.
Sprinkle tomatoes and chopped coriander on top. Wait 5 minutes and serve with nacho chips.