Delicious and Simple Potato Soup (Vegan)
Hannah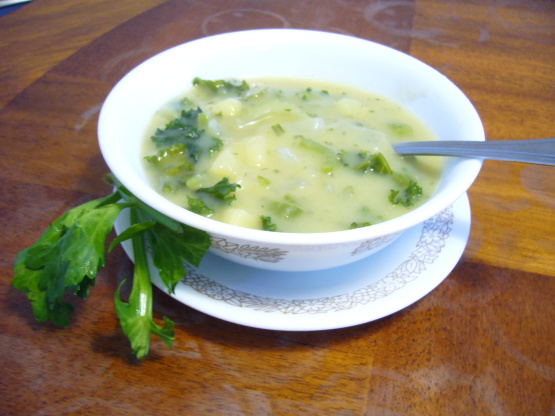 This creamy VEGAN potato soup is totally delicious. It's perfect to enjoy for lunch or dinner. Add kale, leeks, etc. to your taste. -- Came from the cookbook Everyday Wholesome Eating by Kim Wilson. Enjoy!

With all the soups I've been making while PAC is in full swing, I had to cut this recipe in half, but other than that, the recipe was followed right on down, & was definitely had a delicious potato soup! Loved the inclusion of leeks in this & will be making it again, for sure! [Made & reviewed for one of my adopted chefs in this Spring's Pick A Chef event]
Sauté chopped onions and celery in oil over high heat for 3-5 minutes in a large pot.
Add rest of vegetables, water, thyme, and basil. Cook over medium heat until tender (this takes about 30 minutes).
Purée in blender or food processor until smooth and pour back into pot.
Add the rest of the seasonings and salt, and simmer over low heat for an additional 10 minutes.
Variation: Break 1 bunch kale into small pieces, steam, and add to soup in the last 10 minutes.
Variation: Purée just one half of soup for a more chunkier version.