Meekocu2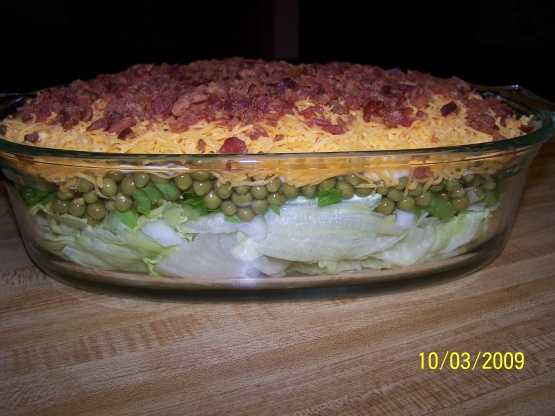 This is my "go to" recipe when I'm hungry for this delicious 7 layer salad. I got the recipe from a friend of mine 15 years ago. You have to let it sit overnight to come together, so prepare the day before. Give it a try and I hope you enjoy it as much as we do. Cooking time is refrigeration over night.
Place in a clear glass dish in order given.
Break lettuce into small pieces and put in the bottom of the dish.
Top with chopped onion, chopped celery, chopped bell pepper, and LeSeur Peas.
Mix together 1 1/2 C mayonnaise with 2 TBLS sugar.
Spread Mayonaise mixture over the peas.
Sprinkle with 1 TBLS sugar.
Sprinkle with cheese and bacon bits.
Cover and refrigerate over night.