Delicata Squash Stuffed With Dried Fruit and Nuts
BarbryT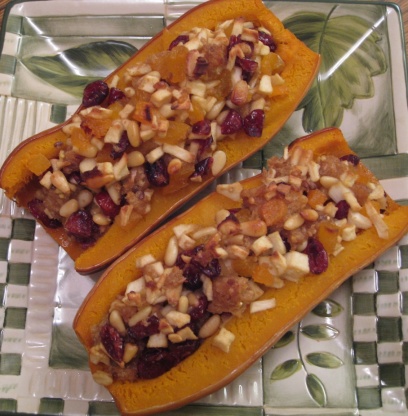 I got some delicata squash from my organic food basket. I wanted to serve them stuffed, so I came up with this recipe, adapted from other recipes I have found. Also, you can eat the skin of the delicata squash, so this recipe is ultra simple to make and eat!

Great dish - loved the toasted pine nuts. Overall, all the favors were great, but I did not think that the bread cubes added anything to the experience. Next time I will use wild rice instead. Extra treat - the skin was delicious and sweet.
Heat oven to 350 degrees. Place squash cut side down on a baking pan with sides. Add 1/2 inch water to pan.
Bake for 30 minutes or until squash is slightly soft. Remove squash from oven. Pour water off pan and carefully turn over so cut side is up.
Combine all ingredients for stuffing mixture.
Place mixture into the 4 squash cavities. Return to oven, continue baking for 30 minutes or until squash is soft and topping is browned.
Serve immediately.