Deli Style Pepperoni Rolls
sedohnah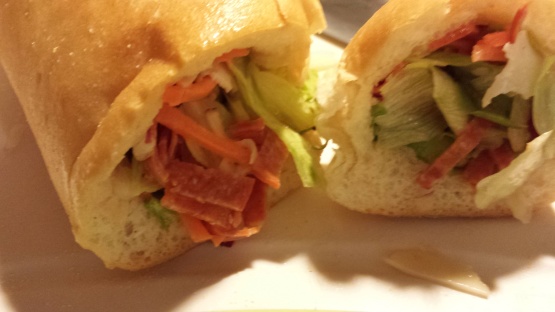 This is a recipe I remember my mom making over the summer when we were kids. She'd make the sandwiches the day before and let them muddle over night in the fridge. They were great to take to the beach or on picnics. You have to let them set for a few hours or you will not enjoy them as much! This was originally in the Press of Atlantic City in 1986. I always use freshly shredded carrots. Don't be tempted to buy the preshredded carrots, they are much more coarse and don't work well. Being near Philadelphia we use good sub rolls with a sturdy crust.

Shouldn't it say 6 rolls for 6 servings? I have made this before using Italian salad dressing or red wine vinegar with Italian Seasoning but never kept them overnight. I'll have to try that too.
Cut pepperoni slices into strips.
Combine pepperoni, cheese, lettuce, carrot, radishes, red onion and tomatoes in a large bowl. Blend together dressing and mustard. Pour over pepperoni mixture. Mix well.
Cut the end off of each roll. Hollow out the roll leaving a roll shell. (you can reserve the centers for bread crumbs).
Divide pepperoni mixture evenly among the rolls. Replace tops. Wrap well and refrigerate several hours.
Let stand at room temperature 30 minutes before serving.