ProudUSAFmom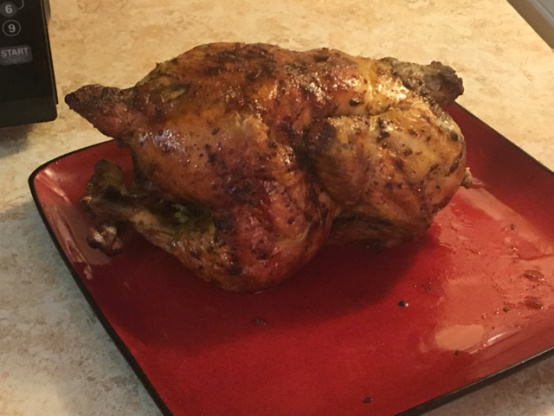 I have a George Foreman rotisserie and love the way everything comes out of it. This recipe makes the chicken juicy and skin crispy. Does not include marinade time.

Love-Love-Love this! No more grocery store rotisserie chickens for us. This is now a Monday routine. We have chicken to snack on, chicken sandwiches for lunch and whatever is left in a couple days makes a delicious chicken salad.
Remove the giblets from chicken and discard.
Wash chicken inside and out, drying with paper towels.
Rub chicken with a little olive oil.
Tie wings and legs with cooking twine.
Mix all the spices together well.
Rub all over chicken.
Place on plate and wrap with saran.
Put in fridge 4-24 hrs., the longer the better.
Put chicken onto rotisserie bar.
Set timer for 1 1/2 hours.
Chicken is done at 160 and no longer pink.