Deli Pickles - Half Sours
Carol V.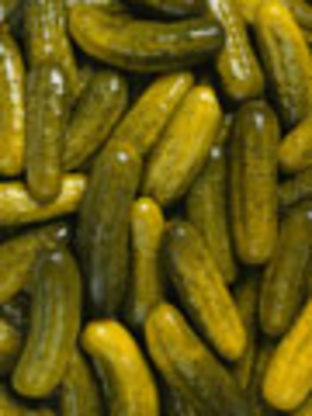 I have been making these pickles for a very long time, they are so simple and they disappear so fast I have to make them pretty often. Like so many of my recipes, this is easily adjusted.
Wash cucumbers. Remove blossom ends carefully to remove soil.
Place cucumbers in large crock. Distribute the dill heads evenly. Make a brine of the remaining items and add to the cucumbers. Covr with a heavy plate and weigh down with a glass jar filled with water.
Store at moderate room temperature (70 to 75 degrees F). If scum forms, remove it daily. Pickles may be eaten after third day, but to be at their best pickles need a one week fermentaion. After one week, pack the.
pickles into clean jars and refrigerate to halt fermentation. These pickles must be kept in the refrigerator.