Delectable Potato and Ham Bake
ImPat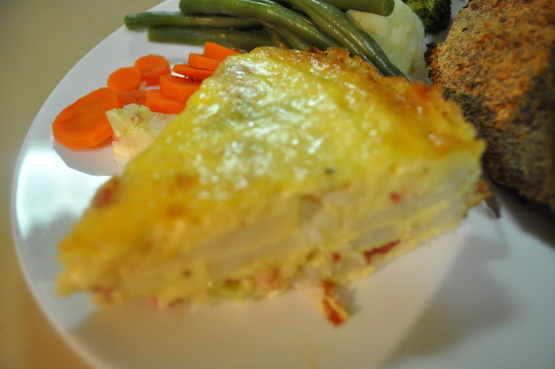 This recipe uses pre cooked potato. It cuts well and can be served hot or cold. You can use a larger dish and make two layers of potatoes instead of three. I used an extra potato for a 21 x 27cm dish and used 300ml cream.

This was a yummy recipe. I made a few additions for flavor, but it was easy to make and reheated very well. I just used a regular pie plate sprayed with non-stick cooking spray and it was perfect. I served it with green beans and sliced tomatoes for dinner and then reheated it for breakfast. Very adaptable.
Boil potatoes until tender, drain and cool.
Cut into 1cm slices.
Line an 18cm springform tin with baking paper.
Layer potatoes, onion, ham and cheese in tin (finish with a layer of cheese).
Whisk remaining ingredients and pour over potatoes.
Bake @ 180C for about 50 minutes or until set.