Delectable Passover Magic Bars
karen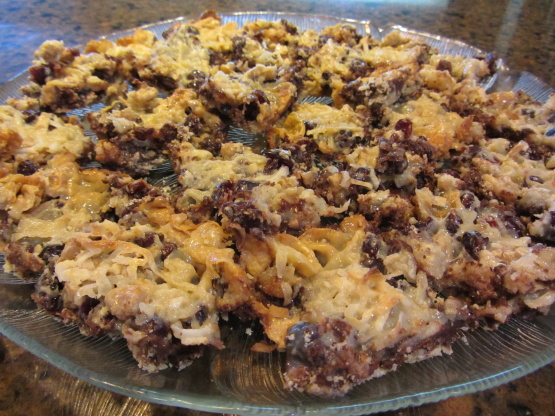 These bars are rich, sweet, gooey and definitely addictive. This recipe is a takeoff of our Outrageous Magical Bars. We love them so much we've converted our recipe for Passover. We're using matzo crumbs instead of graham cracker crumbs and a spread like Smart Balance to replace the reduced-fat butter. We also added dried cranberries. They require no mixing or fussing either. Just seven ingredients layered right in the pan. The skinny on these yummy bars is 162 calories, 6 grams of fat and 4 Weight Watchers POINTS. One regular bar has 356 calories and 23 grams of fat. Start a tradition this year because they'll probably become the most requested dessert to make for Passover. If you don't want to use reduced-fat butter, Smart Balance Light will taste great too.

Top Review by karen
These were a big hit as dessert following the heavy Passover Sedar meal. They get 4 stars instead of 5 because they were personally way too rich for me, but if I was going just on everyone else's reactions, they would get 5 stars. I used matzo meal instead of starting with whole matzoh, and used about 1.5 cups of chocolate chips and 1 cup chopped walnuts. I also used butter since I don't do reduced fat butter substitutes. I think it could have used a bit more butter since about half of the matzoh meal was crumbly and stayed in the pan when I lifted them out. A bit more butter would probably make it act more like a bottom crust. I agree completely that they need to be cut while warm. There were as easy as could be and should be a hit with people who love really sweet desserts.
1⁄4 cup reduced-fat butter

4

matzos, unsalted

1

cup semi-sweet chocolate chips
3⁄4 cup cranberries, dried
1⁄2 cup walnuts, chopped
1⁄2 cup coconut, flaked

1

(14 ounce) can fat-free sweetened condensed milk
1. Preheat oven to 350 degrees.
2. Break the matzo into pieces and place in a blender. Cover and blend on high to make crumbs or start with 1¼ cup matzo meal.
3. In a 13 x 9 baking pan, generously coat with cooking spray. Add the Smart Balance and place in the oven to melt. This will take about a minute. Remove from oven.
4. Sprinkle the matzo crumbs evenly over the top of the Smart Balance. Do not mix.
5. Sprinkle the chocolate chips evenly over the top.
6. Next, sprinkle the cranberries and then the walnuts. Finally sprinkle the coconut evenly over the top.
7. Drizzle the sweetened condensed milk evenly over the chips. To make the milk easier to drizzle, place the can in a bowl of hot water for a few minutes.
8. Bake for about 20-25 minutes until golden brown.
9. Cut into 24 squares while still somewhat hot. If you let them cool they become very difficult to cut.